Summer means a lot of concerts and baseball.
The Mountain Winery in Saratoga is one of my favorite music venues — picturesque, low key and close to home. It makes it easy to attend concerts on a weekday night. We don't have to rush out the door and drive 45 minutes to an hour up to San Francisco, Oakland or Berkeley, which is a long, miserable schlep after a work day. But with the Mountain Winery, it's just a quick eight-mile drive on city streets.
I do have one small nitpick with the venue. I've gone to two concerts there so far, and both times, they didn't take our tickets. We just strolled on through. It's like you walk in a little late and the ticket takers are already gone. The first time, the main act had already begun. The second time, last week, the opening act was midway through the set. At least this time, some guy 10 feet away from us on the main path said, "Hello, good evening." I waved my folded-up, printed-out tickets, which could have been blank pieces of paper for all he knew, and he just waved us on.
If I'm going to spend money on tickets, at least take my tickets, so I don't feel like I could have seen the concert for free!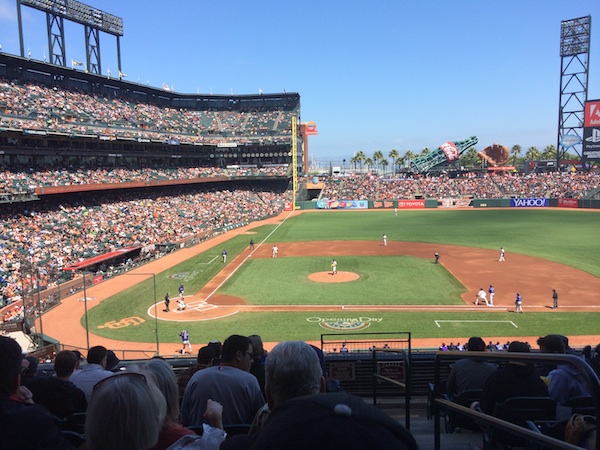 This season, my brother and sister-in-law upgraded their Giants' season tickets. And this is the awesome new view.
It's a huge improvement. Here are the before and after shots, taken in February when we took a field trip to AT&T Park to check out the new seats.
My brother, uncle and I bought the rights to the original seats before the ballpark opened in 2000. When I moved to Arizona for ten years, my brother and sis-in-law kept the seats, and I'd attend a few games a year during my visits home.
We had some good times in the old seats — the 2002 playoff run, the Barry Bonds' moon shots over the right field wall, and the 2010 and 2012 World Series championships. We miss some of the people in our old section, for sure. Some of them became like family. The next time I attend a game, I'll have to go to the old section and say hi.