This was our holiday card. It pretty much sums up our 2013. We sold our house in Arizona in February and moved into a quaint rental in California. In September, we began house shopping, found one we loved, bought it in October and we've been remodeling ever since.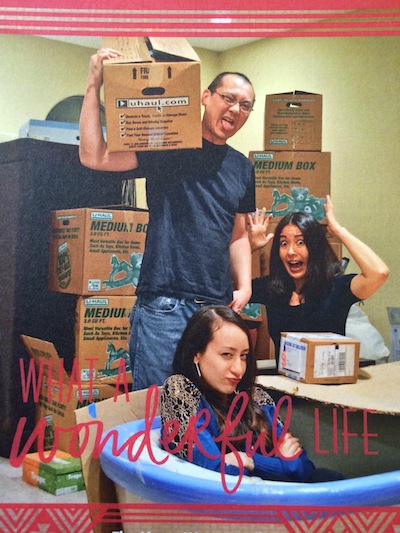 Who needs to watch HGTV and its house-selling, house-hunting and remodeling shows? I'm living it. Moving twice and doing house renovations twice in one year (once to sell, once after purchasing) is exhausting!
We moved into our new house the day before Thanksgiving and even managed to host Thanksgiving dinner. But we're still living among boxes as renovations reach its 10th week. We do see light at the end of the tunnel. The last remodeling project, our master bathroom, should be completed within the next two weeks and we can finally get settled.
A good friend, Pete Hammer, emailed me yesterday with some good analysis about our year. He wrote, "So you've done a ton of work this year getting yourselves re-established. 2014 will be a time to reap the harvest. A lot less work and more time to enjoy yourselves."
I like that. It's true. We moved back home to California, so we could be among family and friends. The year 2013 was about transitioning back. I look forward to 2014, and I look forward to using this new space — our courtyard. We plan to string up lights, put in furniture and have movie nights on warm, summer evenings.